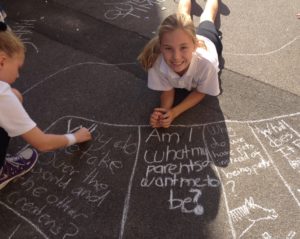 We are passionate about providing opportunities for children to be quality thinkers.
So we provide training in Philosophy for Children (P4C) for teachers, philosophers and others working with children.
We teach P4C because of the consistent body of evidence that demonstrates that Philosophy for children provides measurable educational benefits academically, socially and emotionally. A recent major study involving 3,159 Year 3 students from 48 schools across the UK saw English and Maths scores improve by an average of two months and the benefits were even more pronounced for students from disadvantaged backgrounds. Visit Sapere for the full report.  (And by the way we are all practicing teachers.)
Kinderphilosophy is nationally endorsed by BOSTES to provide QTC Registered Professional Development accredited courses. Click here for a full list of current courses on offer. 
Apart from providing workshops for teachers and philosophers and working within schools we are also out and about..To see some of the things we have been recently doing click here. 
Upcoming Events
Recent Posts from a P4C classroom